Exhibit Review: Frida Kahlo, Her Photos
This past weekend the Museum of Latin American Art (MoLAA) unveiled its newest exhibit that highlights the life of Mexican painter, Frida Kahlo. The exhibit features photographs and self-portraits of the painter through various aspects of her life and those most important to her; from Mexican Muralist Diego Rivera, to Russian Marxist revolutionary and theorist, Leon Trotsky.
Frida Kahlo, Her Photos allows the viewer to step into the artists' mind while taking a journey through the pivotal moments that helped shape her strong sense of identity. Curator, Pablo Ortiz Monasterio, mindfully pieced together a collection of photographs that truly connects with the viewer. The sequence of photographs is almost reminiscent of an emotional roller coaster for the viewer through the eyes of Kahlo. The most memorable section of the exhibit depicts a major turning point in her life; the trolley accident in which the artist suffered many life threatening conditions, including the breaking of her spinal column of three places in the lumbar region.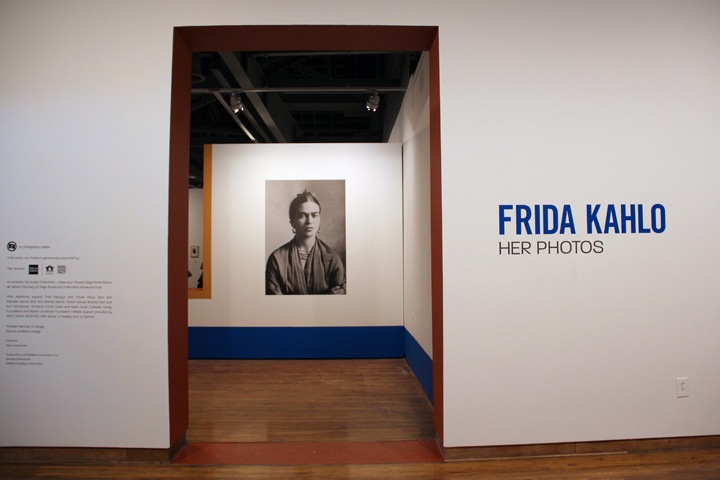 The gallery walls were highlighted by strong colors; one particular color stood out from all the rest, and that was the similar cobalt blue used in the famous Casa Azul.  The Casa Azul (or the blue house) was the home in which Frida was born, lived and died. Casa Azul is now home of the Frida Kahlo Museum in Mexico City.
It is important to note the magnificent architecture behind MoLAA.  The original site for the museum was re-imagined and designed by prominent Mexican architect Manuel Rosen; the "new" MoLAA reflects contemporary Latin American architecture and style.  Two forty-foot monolithic rectangular arches architecturally reflect the expansion's "Bridge to the Americas" theme. The arches, one symbolizing Latin America and the other the United States, reflect the encounter and metaphoric bridge between these diverse cultures.  A reflection pool below mirrors these "bridges" and also acknowledges the museum's proximity to the Pacific Ocean.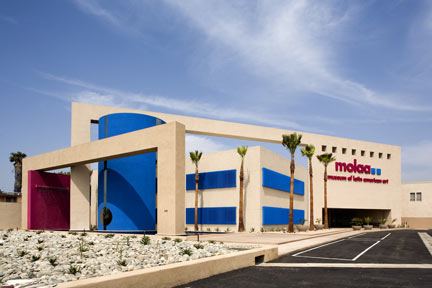 Exhibition on View
March 16-June 8, 2014
About the exhibition
Frida Kahlo, Her Photos presents over 200 images from Frida Kahlo's personal Casa Azul archive in Mexico City. MOLAA's featured spring exhibition includes images of Frida, by Frida and for Frida. Represented here are a wide range of photographs that shed light on a more personal side of Frida's life, from family photographs, both traditional portraits and candid shots at the Casa Azul, to mementos of pain, love, and the artistic, intellectual and political milieu in which she lived. This selection from the Casa Azul trove also includes images by Lola and Manuel Álvarez Bravo, Man Ray, Tina Modotti, and Edward Weston among others.